http://www.sperimentarea.tv/ondemand/perseus 
a fiction film of a 58 minute duration, shot in Paros
( Cyclades, Greece) with non-professional actors in 1981-2, 16 mm, colour.
        photography :  Yannis Daskalothanassis
  music : Nicos Tatsis
traditional music selection: Domna Samiou
editing : Vassilis Syropoulos
direction – script – art direction and production :Yannis Tritsibidas

with : Kostas Vrionis ( Perseus ),
            Marilli Tsopanelli  ( Danae ),
 Petros Metaxas ( Polydectes ),
            kapetan Linardos ( Akrissios)
 
            guest star : Christos Tsangas (narrator
                              and school master)
         english version text  by Desmond O' Grady and
         Judy Miles
Τhe myth of Perseus, slayer of the Medusa, is one of the most fascinating tales in greek mythology.
Io, Danae and Akrisios, the two Hags, Andromeda and the Monster, Polydectes who turns into stone, the founding of Mycenae are the main stages of the story.
"Perseus" was filmed in the Cyclades with the participation of locals and reminds one of a folklore tale.
The architecture, objects and costumes, music and other elements which reconstruct greek antiquity are related to the Aegean's folk art and traditions. For it is the Aegean and Mediterranean Seas which the heroes cross continuously in all directions, from Argos to Bosphorus and the Black Sea, from the Ionian Sea to the Cyclades and Asia Minor, to the Middle East and Egypt.
The story
Zeus falls in love with beautiful Io, the daughter of Inachos river, the genitor of Argolis, and seduces her. In order to escape from the anger of Hera he transforms Io into a cow who, persecuted as far as the Orient finally gives birth in Egypt. Her descendants return to Argos and reign. King Akrissios shuts his daughter Danae in an underground jail so that she may never meet a man since the oracle of Delphi prophesied that her son would kill his own grandfather. Zeus however visits her and she gives birth to his son, Perseus. Danae and Perseus, thrown into the sea on a wooden trunk by Akrissios, reach the island of Serifos where Dictys, the fisherman, finds and keeps them. The king of Serifos, Polydectes, in order to keep Danae for himself, sends young Perseus far away on a very dangerous assignment: to bring the head of the frightful Medusa. Whoever looks her in the eyes petrifies and turns into stone.
Perseus, winged and armed with the help of Apollo, Athena and the Hags, will succeed in this feat. He abducts the beautiful princess Andromeda after slaying the monster who damages her land, and returns to Serifos. Polydectes is punished by looking at Medusa's head. Perseus, in his search for his grandfather Akrissios, kills him by mistake. He thus leaves his ancestral Argos and founds Mycenae.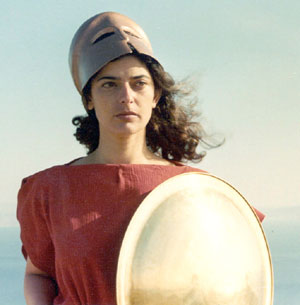 ---
Staff